Aaron Paul reveals Bryan Cranston is godfather of his newborn son
"I love that man to death, he's one of my best friends in the world"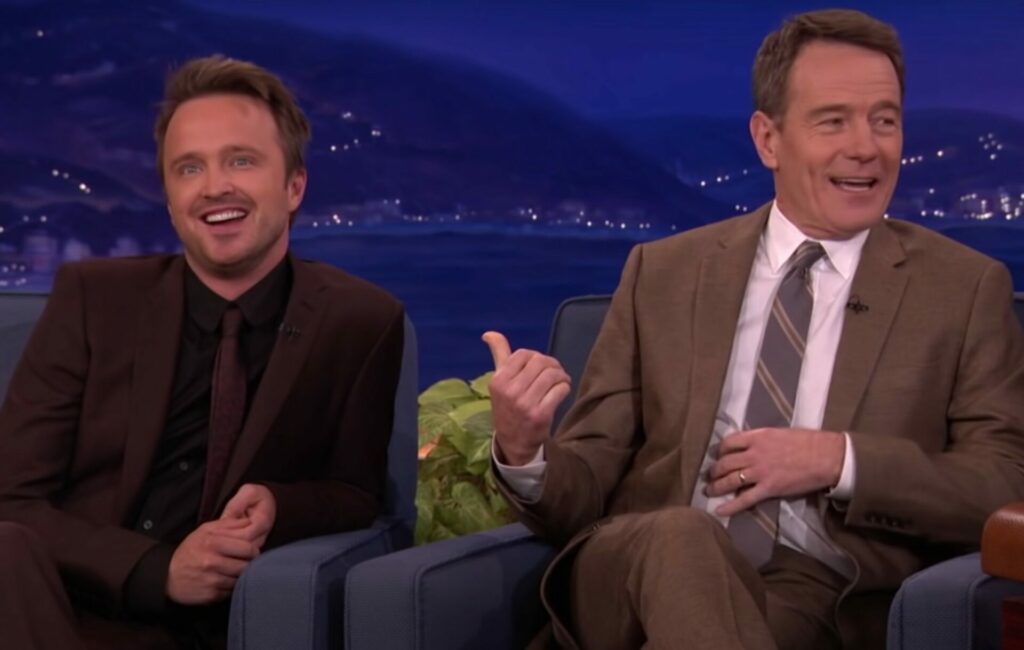 Aaron Paul has revealed that he asked his 'Breaking Bad' co-star Bryan Cranston to be his newborn son's godfather.
During his appearance on 'The Tonight Show Starring Jimmy Fallon' on Tuesday (April 19), Paul announced that he and his wife Lauren recently welcomed their second child, a boy named Ryden.
After looking at pictures of the actor's newborn son, Fallon asked if Paul's "good friend" Cranston had met the baby.
"He has met the baby. I asked Bryan on his birthday if he would be our baby's godfather," he replied.
Paul joked that Cranston "said no", before adding that his former co-star was "very excited and very honoured".
"I love that man to death, he's one of my best friends in the world," he continued. "So it was just a no-brainer".
Fallon went on to ask about the duo's anticipated reprisal of their roles as Jesse Pinkman and Walter White in the sixth and final season of 'Better Call Saul', the 'Breaking Bad' spin-off series.
"I can't believe we can talk about that," Paul said, after the news was announced earlier this month.
"It was nice to zip on the skin of Pinkman again," he added. "It was strange, it was a lot of the same crew from 'Breaking Bad' working on 'Better Call Saul', so it was just nice to be reunited with this beautiful group of people out in New Mexico."
The first two episodes of 'Better Call Saul', 'Wine and Roses' and 'Carrot and Stick' both aired on April 18. There will be 13 episodes total, split into two parts.
Paul has reprised his 'Breaking Bad' role once before in the Netflix sequel film 'El Camino: A Breaking Bad Movie' in 2019, which detailed Jesse's fate at the end of the hit series.
The actor later recalled once being invited to a Rolling Stones concert, who were fans of his. "I show up, and they're like 'Ronnie Wood wants to tour you around before the show, can you show up early?'"
"And then he brings me to Keith Richards' dressing room and he's shirtless, smoking a joint, and I'm like, 'This is such a rockstar moment.'"
Paul's latest film is sci-fi thriller 'Dual', which follows a woman who chooses a cloning procedure to ease the grief of her family and friends, but must then fight her clone when she recovers from her illness. The film also stars Karen Gillan, Jesse Eisenberg, Theo James and Beulah Koale.