Meet Baby Queen, the 'Heartstopper' songwriter touring with Olivia Rodrigo
The rising singer discusses the recent buzz around the 'Heartstopper' soundtrack, touring plans with Olivia Rodrigo and working on her debut album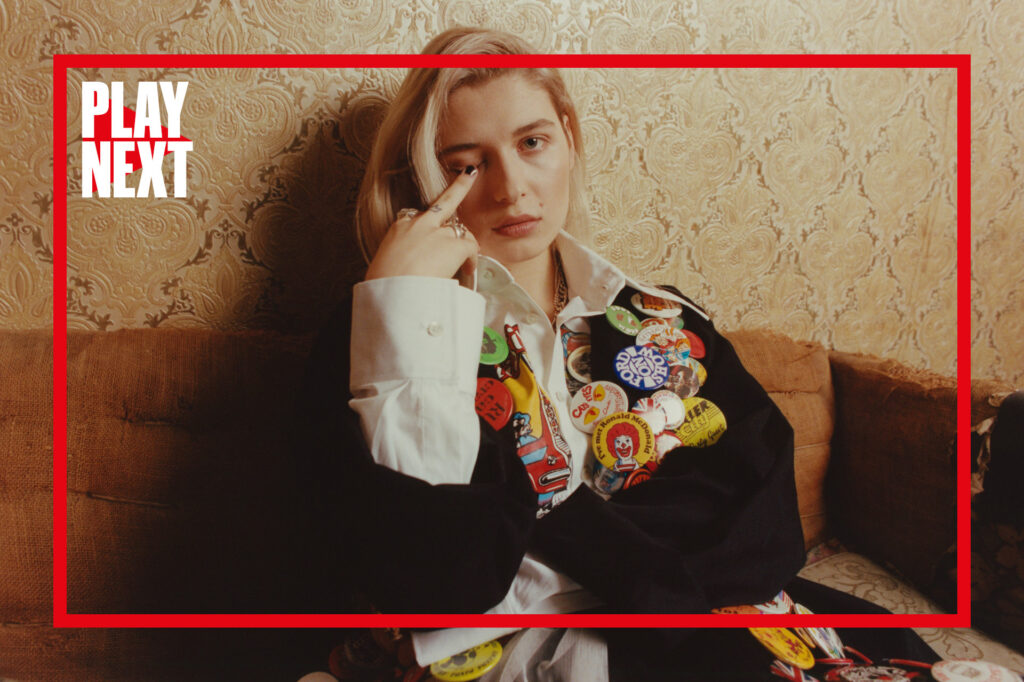 Baby Queen sounds a tad husky when she jumps onto Zoom with Rolling Stone UK. "I've lost my voice a little," she says. "I had a few too many glasses of wine last night and shouted a bit too much." Though the singer assures us that she put a hard stop to her festivities at 2am so she could be on form for our interview, who can blame the 24-year-old (real name Bella Latham) for letting her hair down when she's experiencing the fastest rise of her music career so far.
Born and raised in Durban, South Africa, Latham moved to London when she was 18 to pursue music, signing to Polydor Records in 2020 during the first Covid-19 lockdown. She released her first EP, Medicine, later that year, followed by her 2021 debut mixtape The Yearbook. Her flair for lush pop melodies and sharp lyrical narratives has found fans in Courtney Love, Olivia Rodrigo, and, most recently, Alice Oseman, who wrote the book behind the hit Netflix show Heartstopper. The author told Latham that her music captured the essence of the series, prompting Baby Queen to write the original track 'Colours of You', which was used in the trailer.
The rising singer's loyal fanbase – the Baby Kingdom, as they're known – has now seen a huge surge in new members. "I feel like the fans of Heartstopper fit into the world of my fans really well," she says. And it looks to be only up from here, with an upcoming UK support tour with Olivia Rodrigo in the summer, and a debut album in the works, too.
What has the response been like to your songs in the Heartstopper soundtrack?
Just insane. I definitely didn't think that it would like triple my whole everything, like every single number across the board. So it's just been completely insane and it doesn't feel real.
How did you dream up the concept of 'Colours of You', written for the show?
I had this idea, 'Colours of You', in my head for maybe two years. I didn't know what I was using it for. The first song I wrote was from [the character] Charlie's perspective, this one's from Nick's perspective. And I was trying to get into the headspace of that character. I feel like I can really relate to Nick because I'm bisexual as well, and I also had the same journey of going on the internet, [taking] the 'Am I Gay?' quiz, all of those sorts of things. There are a lot of parallels between his character and me. I was trying to think back to times when I felt like I was really in love with someone. Your life is one thing before and this person walks into your life, and suddenly you see colour. I didn't intend for it to be a Pride song, and then afterwards I was like, 'Damn, this is gonna become a whole thing.'
"There has to be a season two [of Heartstopper]. I mean, there has to be one. Come on Netflix!"

— Baby Queen
Has there been any talk of a season two?
It's one of those things where I don't think any of us know. I've been chatting to the cast about it and they're saying that they're talking about season two in interviews so that there has to be a season two. I mean, there has to be one. Come on Netflix!
You said that your mixtape The Yearbook was your coming-of-age project. What kind of experiences did you draw from to write that?
The Yearbook basically charts the time from when I was maybe 20 in London, and I got dumped in Clissold Park in Stoke Newington because I was broke and not ambitious enough. I got dumped, threw up on the side of the road, and that's where the story began. I then started partying a lot to sort of bury that pain. I guess it just really charted a time in my life where I felt like I was properly growing up, because I moved away from South Africa when I was 18. I feel like that was like my growing up time. I was trying to figure out who I was as well, stuff about my sexuality and my identity that I couldn't accept until I became Baby Queen and released that first music.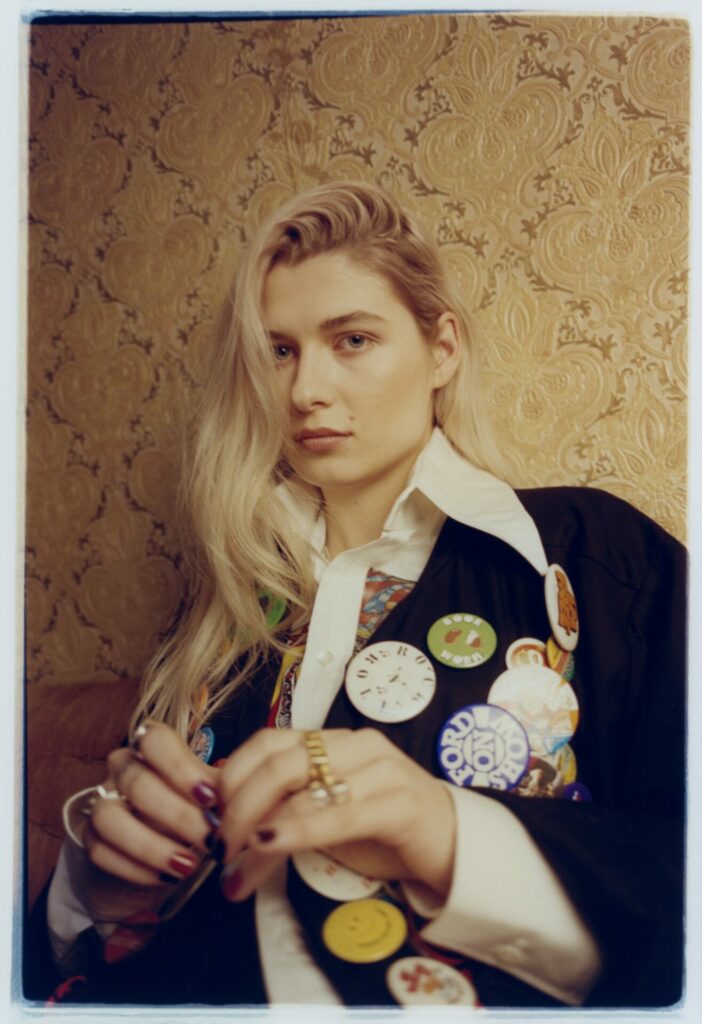 Do you think pop artists are addressing more important subject matters in their lyrics these days?
Yeah. You think of pop in the 90s and 2000s, there wasn't really much conceptual connection. I'm talking about the pop that you actually listened to, the pop music of the day – the stuff that that was really breaking through was more light. People wanted to dance, people wanted to be happy. And I think as we've moved into this era of Gen Z coming up to be the people that are the main consumers of music, you've got a generation of people where there's a backlash against anything that is plastic. I think it's like a backlash against the Kardashian-ism – people want something real. For example, when Billie Eilish broke as the biggest pop star in the world, that was just the tip of the iceberg of what was actually happening underneath. I feel like it's a really exciting time for lyricism and art. I don't think music's been this exciting for years.
"It's a really exciting time for lyricism and art. I don't think music's been this exciting for years"

— Baby Queen
What was the experience of your first headline tour like?
It was crazy. I didn't expect anything because the moment you have an expectation of what that's going to be like, it never is. You get there and it's different. So it did exceed my expectations. It's weird to go to cities you've not been to before and have people there waiting and knowing the lyrics to your songs.
You're going to be supporting Olivia Rodrigo on her UK tour in June. What's your friendship like with her and what does this support slot mean?
She's amazing. She found [my debut single] 'Internet Religion' when it first came out, which is also another stroke of luck. She just happened to be on that Spotify playlist on that day. I remember she posted that on her story way before she released 'Driver's Licence'. And then when she was signing to my label, we started chatting over text. My label didn't get that tour for me, it all came directly from her, which is amazing. I met her for the first time at the BRIT Awards afterparty and we had a little dance. She's a lovely girl and I'm really excited. We're going on a girlies' trip to Europe.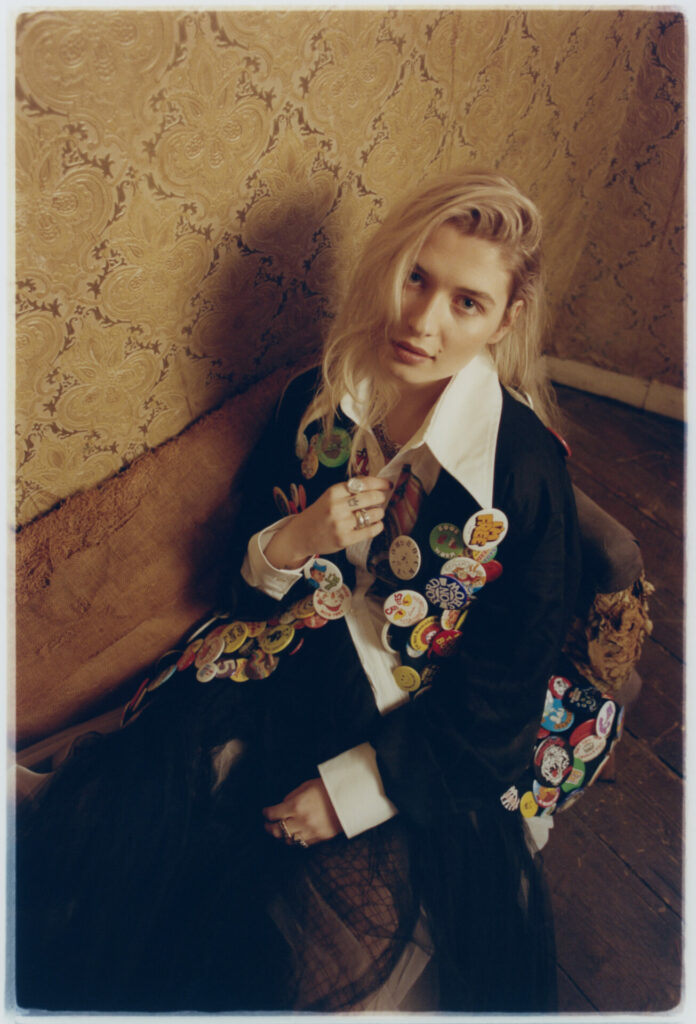 How do you avoid comparison culture when there's lots of young women in pop thriving at the moment?
It's really tough. With Olivia it's very different because we're on such a different trajectory. Why would I be competitive with Olivia Rodrigo? I've lost already! It gets a bit tougher when it's people at your level. I remember being like, 'F**k Holly Humberstone!' before I met her. I was like, 'Damn Holly Humberstone, she's gonna f**king beat me at everything!' You can't help it. And then I met her at Reading and Leeds and I was like, 'Can you be my best friend?' Comparison culture really is the worst, and the way the music industry is designed is you're literally pitted up against each other. I said to Holly, 'Thank God I met you.' I'm just a competitive twat, and now she's one of my really good friends.
"Comparison culture really is the worst, and the way the music industry is designed is you're literally pitted up against each other"

— Baby Queen
How is your debut album coming along?
Debut album, f**k! It's a f**king nightmare for me because, based on the number of songs I've released, it's actually like a second album. So I'm having massive second album syndrome. I'm having that feeling of, 'I can't outwrite what I've done before'. I started making a super pop album, and then I was like, 'I hate this, we have to start again.' And then I made a song called 'Wannabe' which is drawn from more scuzzy, 90s rock. Initially, when I was making this album, I was like, 'We're cancelling guitars. I don't want a guitar on this album'. And now I'm like, 'I don't want one song without a guitar in it.' So it's been a lot of shifting around. It's definitely been tough. We're getting there now.
Is there an overarching theme for the record?
I think it's this whole thing of, you can inspire [people] by just being really authentically true to yourself. It feels like a movement. I think I've always been, ever since the first song, a Gen Z artist. I feel like I'm really stepping into that, I'm going to take that role completely. It definitely feels a lot more confident. There was a lot of self deprecation and sadness and pain [before] – there's not a lot of pain in this album. I feel like it's a real moment of stepping up with intent. There's a lot on this album of the inability to leave the child inside you behind – it's got this childishness and this innocence meets experience. I think it's gonna be a next year. I've been pushing this album back for so long, but it's not going to be this year, which is fine.
I think you've achieved enough this year!
We're chillin'!