My Chemical Romance live at the Eden Project: a band at the top of their game 
At their first UK show in a decade, the legendary emo band are better than ever with a camp, feminine, self-referential and accomplished performance
By Hannah Ewens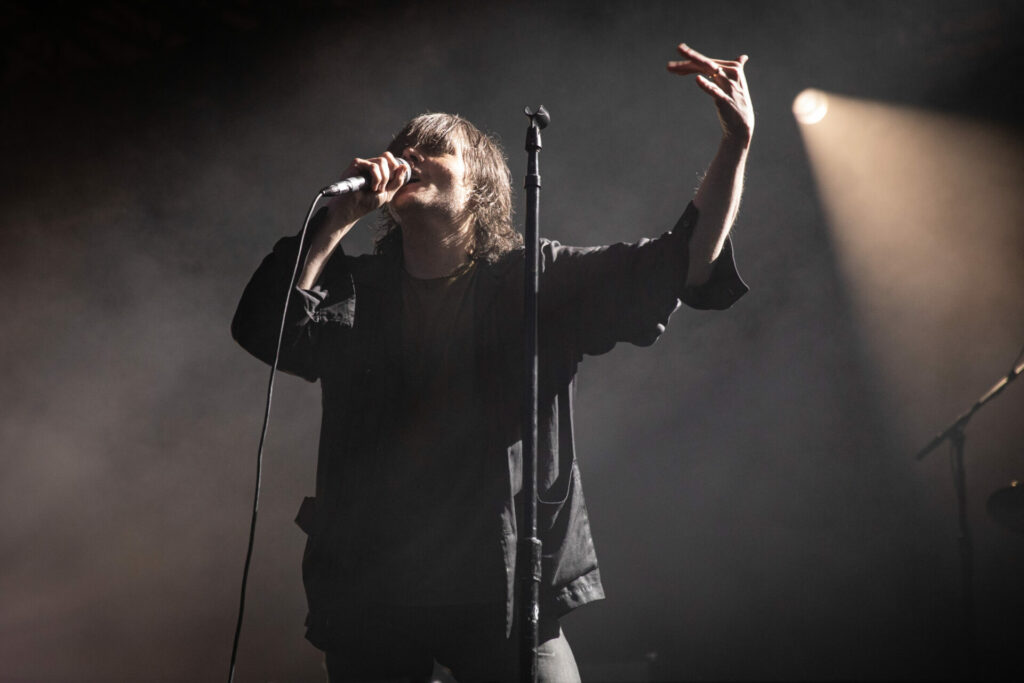 Prior to My Chemical Romance's performance at the Eden Project last night (May 16), various set lists leaked online and circulated in group chats. Just as one was disseminated, a differing one on the same watermarked paper would pop up. Even for a reunion tour as longed for as this one (it was hotly anticipated even before being repeatedly pushed back during the pandemic), it was unusual. But this wasn't just any band reforming and playing – it was the first MCR show in the UK for over a decade.
In the end, none of the set lists were correct. What MCR's fanbase (which, at this point, is home to three generations of rock fans) received was a career-spanning show that exceeded expectations based on footage of their 2019 comeback show in LA. The wait was worth it, the band having clearly spent the two years of the pandemic becoming tighter performers than they've ever been. It was possibly the best of their careers, at least on UK soil.
There were a lot of reasons for this. Frontman Gerard Way's interaction with the crowd was layered with understanding of what emo always was as a subgenre and cultural movement, and is now appreciated for being – a camp and feminine enterprise. Additionally, Way humorously gestured at understanding who MCR is to their fanbase. The crowd tell him to drink water and he does, cheerfully, though he says he's hydrated already. He can't continue the show until he gets his hairbrush for his "luxurious god damn hair", playing vanity up for the crowd. Later he makes a power stance with his back to the audience and puts it into a ponytail.
As Way swings his hips and gives the wilting hand gestures he's known for, it feels like a nod to female fans who were the most vocal and ravenous bulk of the fanbase from the beginning to today. Even the new tour merch featured a fake teen girl magazine t-shirt – the most popular piece of merchandise on the night. There are jazz hands, there is talk of Peppa Pig, there is childlike glee at their own next choice of song. Ultimately Gerard was on impeccable form, clearly excited to be there.
None of this would have the same endearing impact if the band weren't as tight or proficient as their 00s heyday, but they were better than ever. Gerard's live vocals, particularly his brief spells of screaming, were thrilling and sent the 6,000-cap outdoor venue into a frenzy. Guitarist Ray Toro matched his enthusiasm, running around the stage, speeding through solos. Highlights of the set were 'Give 'Em Hell, Kid' and 'Famous Last Words', two staple tracks from their most popular albums, Three Cheers and The Black Parade. Newer songs from their most recent studio album Danger Days don't feel out of place in a set list that spans twenty years and new lo-fi Deftones-style track, 'The Foundations of Decay', which opened the night, suddenly made grand sense for a pomp-loving emo band like My Chemical Romance.
This was a camp, self-referential and accomplished performance from a now-legacy act who aren't a nostalgia project or merely doing reunion shows. They're on top of their game and have the wider rock world and swathes of new young fans eating from the palms of their jazz hands.
With special thanks to The Cornwall Hotel and Spa and The Eden Project for accommodating Rolling Stone UK