Inside Stormzy's arena tour: "He wanted to be close to his audience"
After two years in the making, Stormzy's production team tell us how they pulled off his stunning debut arena tour
By Nick Reilly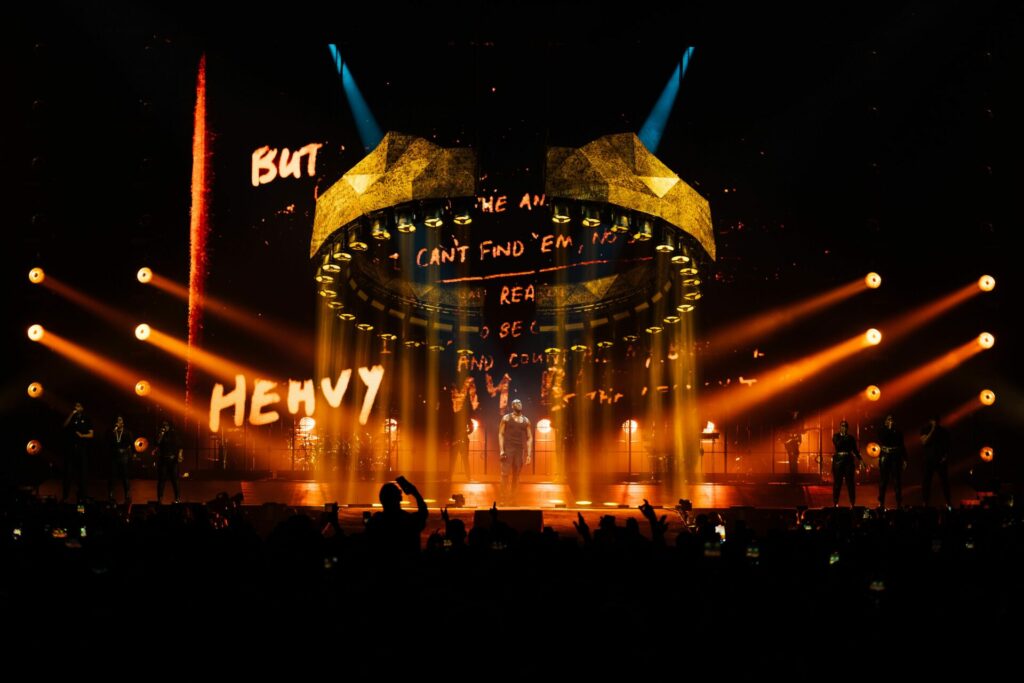 The creative team behind Stormzy's acclaimed debut arena tour have opened up on how they brought the ambitious production to life at huge rooms across the UK.
The grime icon finally kicked off his tour earlier this month, which included three nights at The O2 Arena, after extensive pandemic-induced delays. But with fans holding onto their tickets for over two years, it was up to creative directors Tawbox and international stage designers STUFISH to ensure that the production was worth the wait.
According to our review, it very much was. "When you find out that the staging was designed by the same team who worked on Beyonce's Coachella show, it all makes sense; this is big-league behaviour, with all the bells and whistles," wrote Jenessa Williams in our five star-review of Stormzy's Leeds show.
The production, which boasted endless pyrotechnic displays, becomes an even more impressive feat when you learn about the last-minute team work to make it a reality.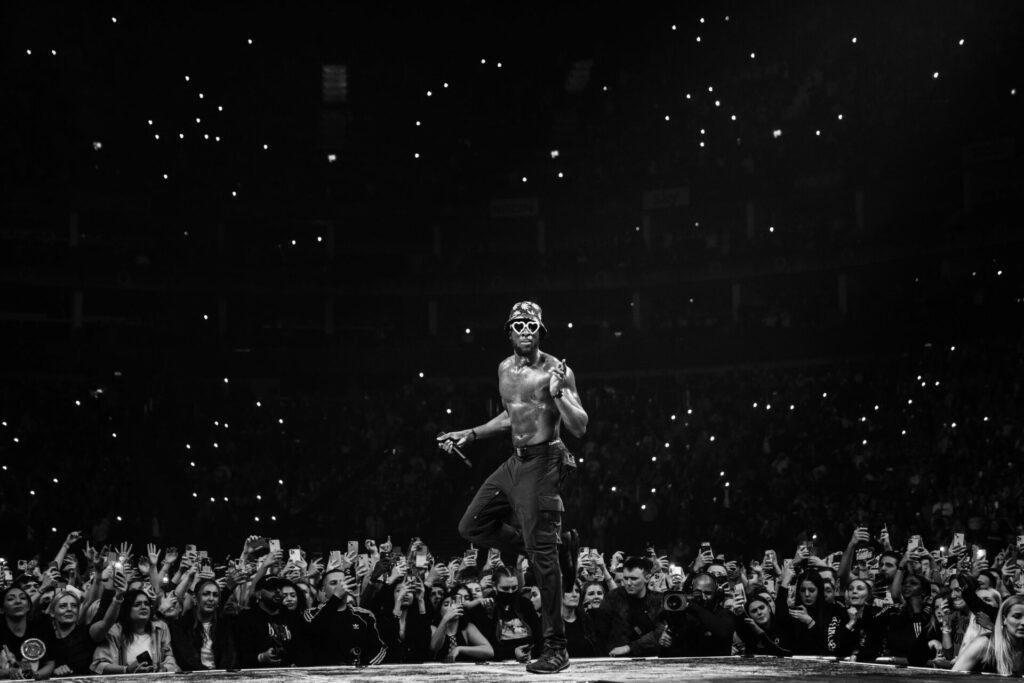 Speaking to Rolling Stone UK, Stufish's Ric Lipson said: "We've been trying to together with Tawbox for years, but it's just never happened. I was in Saudi Arabia in January and I got a message saying 'Tawbox want to speak to you, can I share your number?' I said sure, thinking it would be for the Brits as that was coming up.
"It was the 24th January and they said 'We want you to come onboard to do Stormzy's tour' and I said cool, when is it? They said 'it opens on the 13th March?' I thought they meant as in 2023. No, it was six weeks away."
Ric previously worked on Beyonce's acclaimed Coachella performance in 2018 and says that he viewed Stormzy's shows as being on the same scale.
"We were super excited because he's an extremely interesting artist and I love his album. We did Beyonce's Coachella set and in our minds Stormzy's Glastonbury set was the British equivalent of that" he said.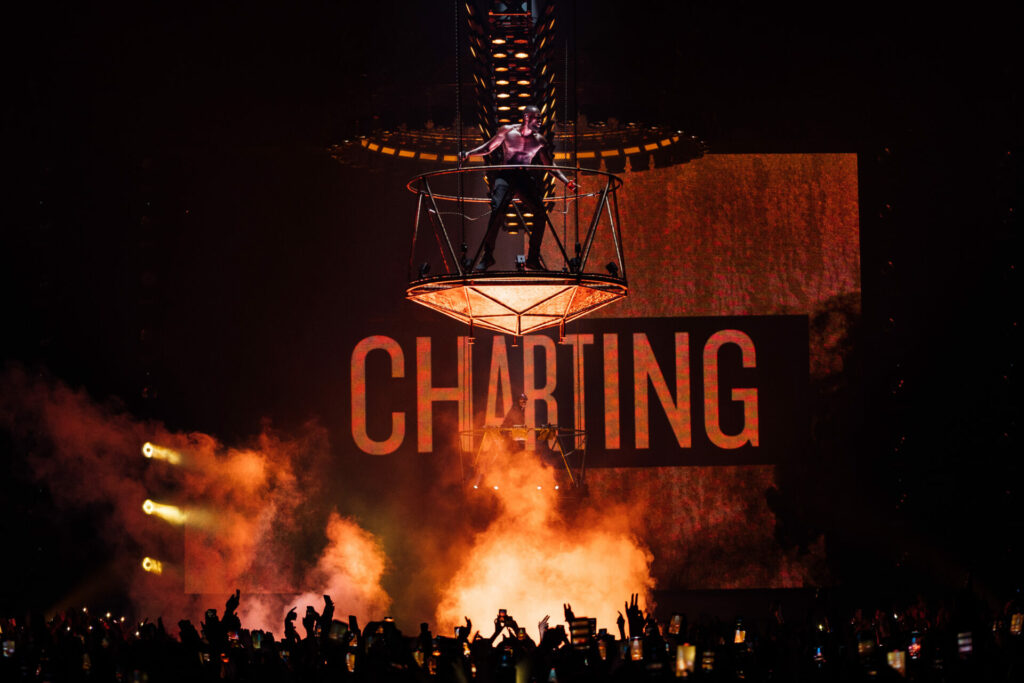 They went on to deliver a show that featured, among other things, 12-piece band, a two-pronged catwalk, a deconstructed crown, and floating scales.
The crown, which loomed large during the show, was a physical manifestation of Stormzy's song of the same name. It was a centrepiece of the show's middle-section, before cleverly morphing into a giant S.
"A lot of the show is built around pushing him into a new performance space. We didn't want it to be a physical embodiment of the crown, but it became one that could deconstruct," said Ric.
Impressive effects aside, there was also the small matter of creating a production that reflected Stormzy's own journey in music. That was the job of Tawbox directors Bronski and Amber Rimell – who previously worked with the rapper on his era-defining Glastonbury headline set in 2019.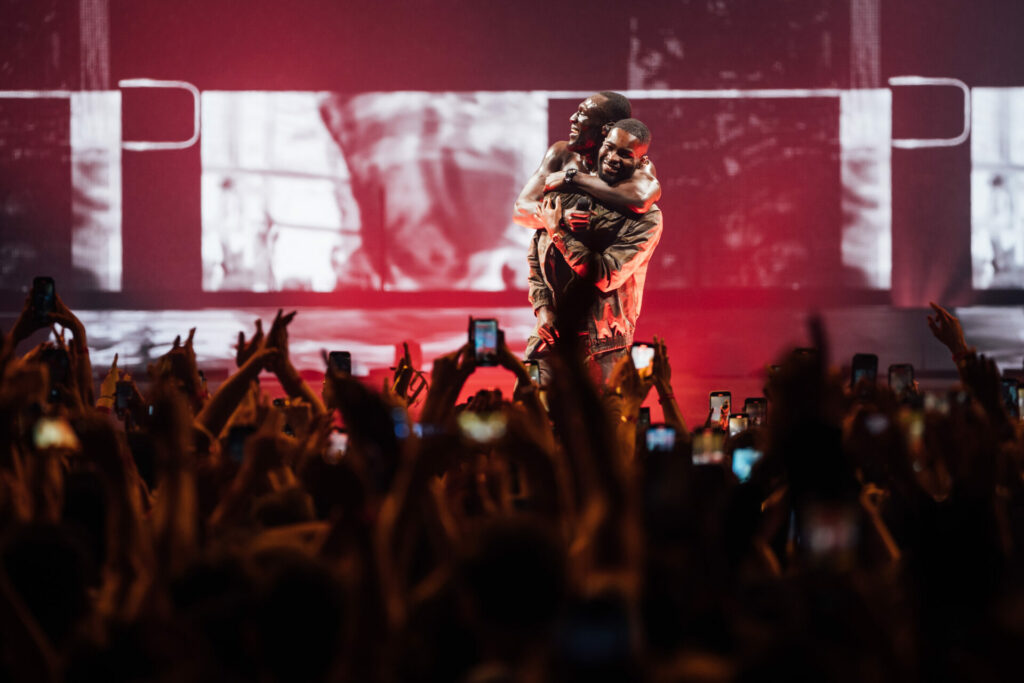 "With Glastonbury we always wanted to have a deeper meaning and a running theme, but we don't want to be super on the nose with it," said Bronski.
"We had a lot of cultural messages in there, but they weren't obvious and he never spoke about it. It made it very digestible and enjoyable and thought provoking without being preachy."
He added: "With this show, where the album is called 'Heavy Is The Head', we know he's got his own interpretation and the weight he feels sometimes, if the head is heavy then there's something going on with balance.
"Balance was our key word throughout the show, we had to make sure it wasn't ridiculously on the nose."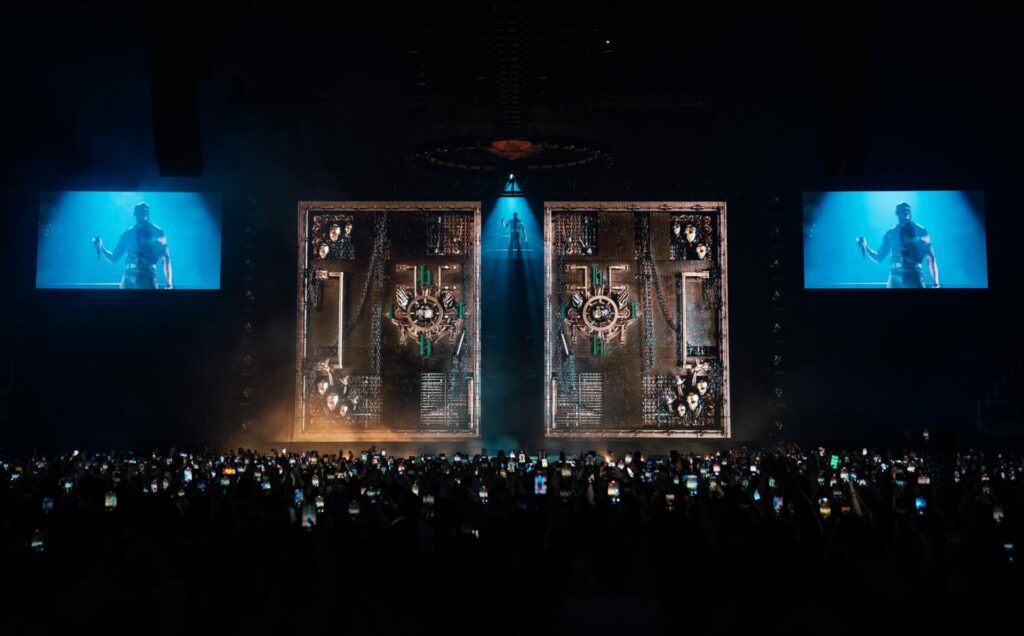 That subtlety, Amber explains, can be found in Stormzy's entrance. He begins the show by standing atop a structure that is several stories high to give a god-like appearance. However, it isn't long before the rapper gets the chance to meet his fans up close and personal.
"He's up high, but he starts there and he's not there for long because he's humble and grounded," said Amber.
"It's definitely something we felt throughout the show, he wanted to be close to his audience because he's a man of the people. It's a special moment for him to be up that high and see everyone in The O2, but we were always conscious that he's still pushing, he's a grafter in all aspects of his life and even he wouldn't want to stay there for long. He comes down, gets off and it generates an extra roar from the audience. He's happy, at home and it's great."
Of that multi-layered design, Ric adds: "The design of the multi-layered stage also created a natural landscape of flat and angled slabs to create an energy that allows the show to evolve and for Stormzy to be at multiple heights."
All that, and the small matter of making sure that the pandemic didn't effect their original plans.
"Stormzy says in his show he's done a lot of growing over the last two years. He's been off social media and spent more time with himself and his family," said Amber.
"He's grown up, he feels like he's become a man so I think if we were still doing the same show as two years ago, we would have had to start again anyway because he's moved on."
Stormzy will play Dublin's 3Arena tomorrow (April 1) and Saturday (April 2).