Boris Johnson's career hangs by thread as Rishi Sunak and Sajid Javid resign
The resignations of both men could spark the end of the PM's time in Downing Street
By Nick Reilly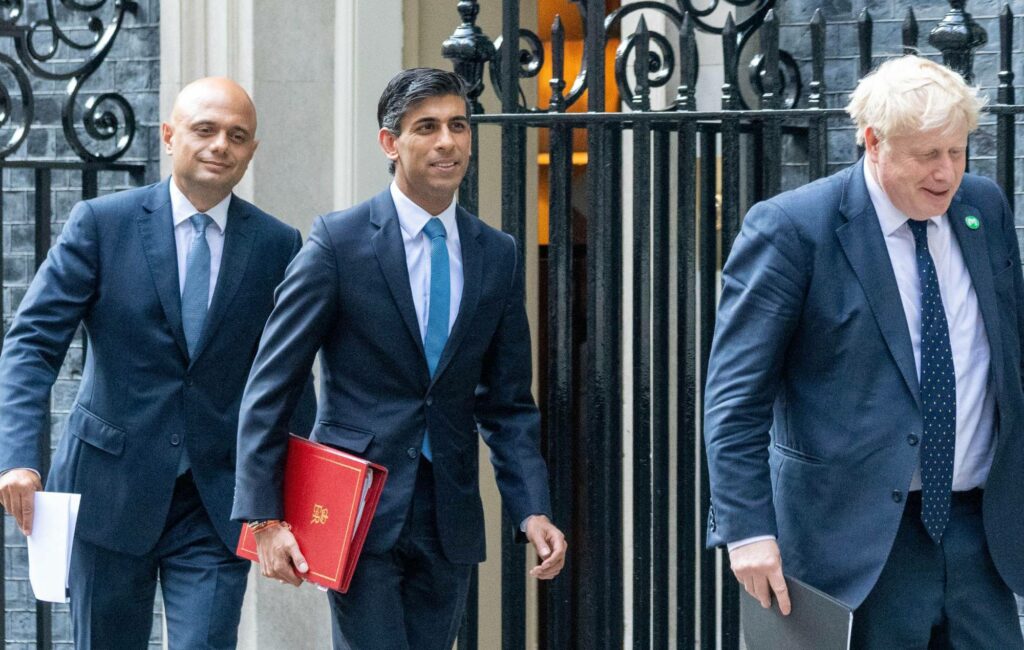 Boris Johnson's premiership tonight hangs by a thread, after the resignations of Rishi Sunak and Sajid Javid dealt a crushing hammer blow to the embattled Prime Minister.
Chancellor Sunak and Health Secretary Javid both quit their respective roles after MP Chris Pincher was forced to resign as deputy chief whip when he faced groping allegations last week.
Today (July 5) saw Johnson gave an interview admitting he should not have appointed Pincher as deputy chief whip in February, after it emerged that he had been aware of a complaint against him while Pincher was a Foreign Office minister from 2019-20.
In a letter to the PM, Javid said he could "no longer, in good conscience, continue serving in this government" as he explained that Johnson's behaviour reflected "on your colleagues, your party and ultimately the country".
Minutes later, Sunak said: "The public rightly expect government to be conducted properly, competently and seriously. I recognise this may be my last ministerial job, but I believe these standards are worth fighting for and that is why I am resigning."
The resignation of Sunak, the most senior member of government after the Prime Minister, could spark the end of Johnson's time in Downing Street.
In the wake of those resignations, several cabinet ministers have confirmed they will stay on. They include Justice Secretary Dominic Raab, Business Secretary Kwasi Kwarteng, Home Secretary Priti Patel, Defence Secretary Ben Wallace and Foreign Secretary Liz Truss.
Javid, a hugely important figure in Johnson's cabinet during the pandemic, added: "Mr Javid added in his letter: "It is with enormous regret that I must tell you that I can no longer, in good conscience, continue serving in this government. I am instinctively a team player but the British people also rightly expect integrity from their government.
"The tone you set as a leader, and the values you represent, reflect on your colleagues, your party and ultimately the country.
"Conservatives at their best are seen as hard-headed decision-makers, guided by strong values. We may not have always been popular, but we have been competent in acting in the national interest.
"Sadly, in the current circumstances, the public are concluding that we are now neither.
"The vote of confidence last month showed that a large number of our colleagues agree. It was a moment for humility, grip and new direction. I regret to say, however, that it is clear to me that this situation will not change under your leadership – and you have therefore lost my confidence too."
The latest scandal to engulf Johnson's government comes weeks after the Prime Minister survived a confidence vote by Tory MPs after winning the support of 211 MPs.
It came amid mounting pressure on Johnson after Sue Gray's report into lockdown parties at Downing Street was published and saw the prime minister facing heavy criticism for his behaviour.
Johnson needed the support of at least 50 percent of all Tory MPs plus one to stay in office, totalling 180. However, his majority of 63 means he came even closer to leaving Downing Street than Theresa May, after failing to surpass the 60% she achieved when a confidence vote was triggered in late 2018.
May was ousted in a leadership contest by Boris Johnson just seven months later, prompting speculation that his future could soon face another threat.