Rina Sawayama: holding herself tight
On her second album 'Hold the Girl', the British-Japanese pop star attempts to make peace with a traumatic past. She talks about the cathartic process of learning to 're-parent' herself, turning 30, and her relationship with her mother
By Hannah Ewens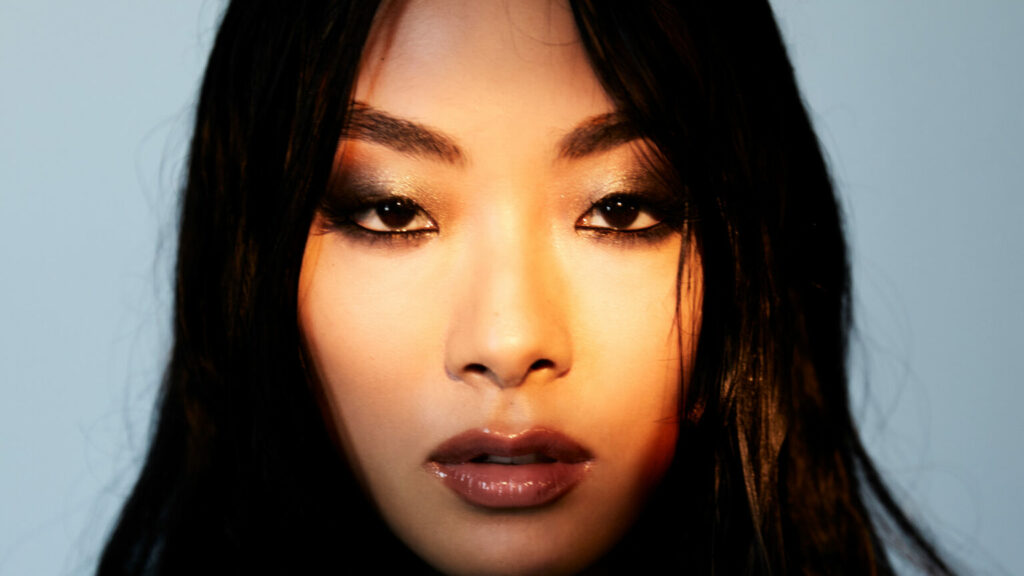 For two years, British-Japanese pop star Rina Sawayama was too scared to leave her house in south-west London. The genesis of this fear was out of her control – for months at a time UK citizens had to legally shield themselves from the world and each other – but even between lockdown periods she remained alone in her self-imposed prison promoting her debut album SAWAYAMA and writing music.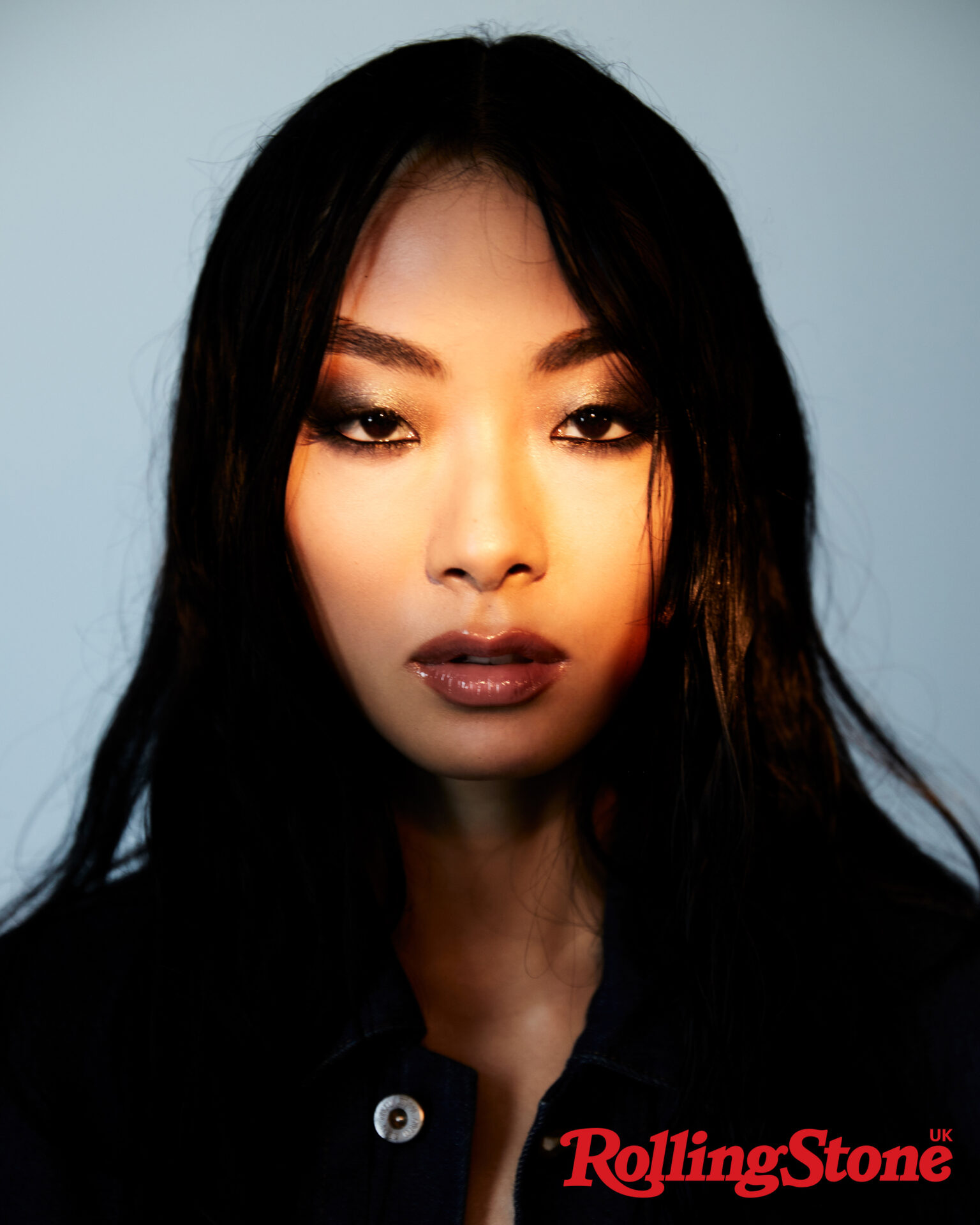 "I was trapping myself and I'm sure a lot of people felt this anxiety: you just became this weird workaholic but depressed person," she remembers, a picture of dewy health as she sits before a Hollywood vanity mirror in a photography studio in New York City.
She's out in the world now. Tonight, she's playing one of a run of large shows in the east coast city to thousands of predominantly queer pop fans. It feels novel to her to be laughing with the makeup artist and relishing the luxury of getting glammed up when only a few months ago having someone that close to her face would have thrown her into a panic. Sawayama was that friend who cancelled last minute or avoided talk of plans and was terrified of giving people – particularly freelancers she might work with for shoots or content – the virus and preventing them from being able to work.
Spending that much time by herself meant that introspection was inevitable. "Like a lot of people, lockdown made you look at yourself and the things that were not making me happy in my life," Sawayama confides. She started a "more intense and specialised therapy" over video call than she had previously been doing (counselling and psychotherapy) to work through some trauma she experienced as a teenager: "It was emotionally and personally one of the hardest things I've ever done," she says.
"When I'm ready, I think I will be able to talk about what [Hold the Girl is] actually about"

— Rina Sawayama
As the sessions began to throw up complicated feelings, she began to consider whether her second album could be used to process these. "The new kind of therapy really opened up new points of exploration and I really wanted to see whether I could make those things into a pop song," she says. When writing with her long-term collaborator Lauren Aquilina, they would talk through her therapy and together musically translate different problems and discoveries. Beforehand, Sawayama would often find herself brought to tears by the emotional weight of what she was learning about herself.
By late July 2020, the call to action became impossible to ignore: "I remember when Taylor Swift released Folklore, I was like, 'This bitch is writing about fake stories and she just wrote a whole album. If she can do it, I need to do it.'"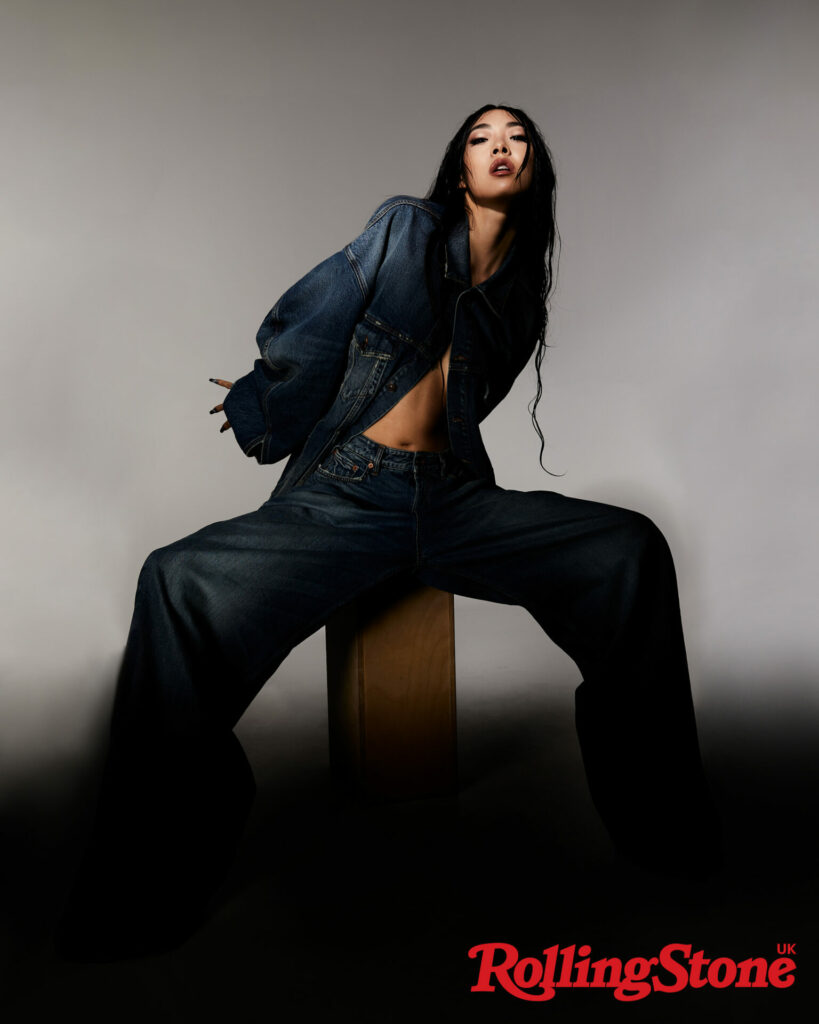 Hold the Girl is an eclectic 13 tracks ordered to chart a journey of emotional growth from pain through revelations to existing in a healthier place. Her trauma is contained in the album – and she's sure that some fans will be able to deduce what it is – but she doesn't want to speak about it yet.
"For me, it's important that the listener is able to listen to it as a pop record first without that background, [and] make their own feelings about it," she says. "And then, when I'm ready, I think I will be able to talk about what it's actually about."
What she is happy to talk about is that the album focuses on the idea of "re-parenting yourself", something Sawayama believes she did with some success through therapy. The self-help definition of re-parenting is to give yourself what you didn't receive as a child – in her case, from her Japanese mother who raised her as a single parent in London, where she didn't speak the language. If there is a tiny child ("inner child") within us all, it's screaming out for love and attention, demanding that its needs be met.
There has been a recent wave of female millennial pop artists reaching their thirties and writing about the maturing and increased emotional intelligence that happens around that age.
Likewise, Sawayama turned 30 during the pandemic, celebrating with an intimate six-person gathering, following the UK's short-lived 'rule of six'. It's an age she's enjoying: "It's that newfound confidence that you have in yourself when you hit 30. You just care less about what other people think about you."
She wouldn't have felt able to be her own parent at a younger age. "When you're in your early to mid 20s, you're not really an adult so how can you parent yourself?" she asks rhetorically.
"It's that newfound confidence that you have in yourself when you hit 30. You just care less about what other people think about you"

— Rina Sawayama
"When I hit my 30s, I was like, 'Oh, I'm an adult. I really feel like an adult now.' To be able to see the things that happened in the past from an adult perspective is something that's very new to when you're in your 30s. Also, now I'm at my parents' age when they had me, that's a new perspective that I can now see, like, 'God, I cannot imagine being a parent at this age.'"
On a practical level, re-parenting meant this: taking an hour or two a day to do art, which she hadn't done since taking her GCSE in the subject. She now looks for opportunities to mess around, to make something for the joy of it. Her daily reminder to herself is to let go of expectations. While growing up, she felt the cultural pressures of her native country, where standards for children's performance and behaviour can be high. Sawayama's ethos now is to be as hardworking as possible while also giving herself rest, quiet and compassion.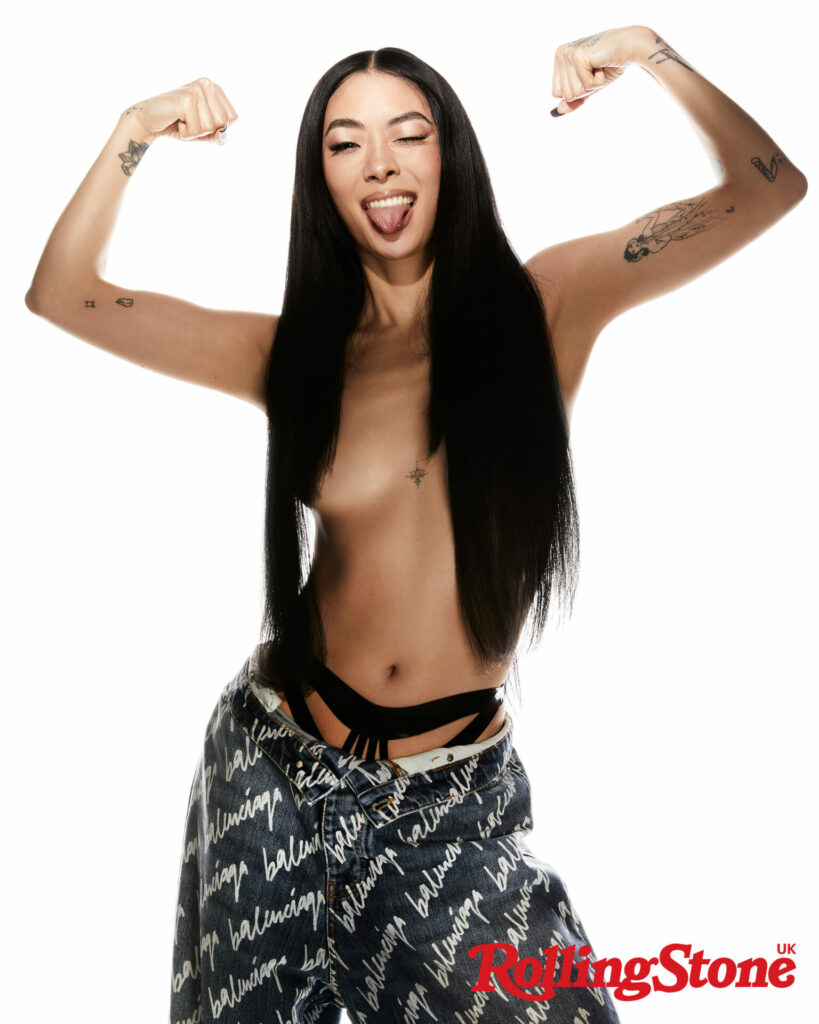 The pressure of being a female pop artist on the rise is inescapable. On the one side, Sawayama has successful friends and contemporaries like Charli XCX releasing the albums of their careers, while on the other, stans discuss who the Main Pop Girls are, ready to call out any perceived "flop" moments.
"Thinking about putting your mental health first is scary as a freelancer, because I'm a freelancer as well," she says of being selective about work opportunities and work load. "I personally don't like to think that there's competition in the music industry with girls in my field now. It's easy to start to buy into that narrative so much that if you don't do this, someone else will. But I try not to engage in that any more."
She grew up watching the Christina versus Britney rivalry, where the two very different female stars were pitted against each other. "It's silly," she says, "we should all support each other as there is space for everybody, especially because of streaming."
What stands out about Sawayama's career to date is that she did it very much alone. "I'm 31 now, I signed my first album deal when I was 29, so I'm coming quite late to this game, especially as a pop artist," she explains.
"It's quite random for a Japanese-British artist to make country music, but I never really care about those kinds of things. I just want to have fun"

— Rina Sawayama
"A lot of pop artists start young, their parents support them and their parents walk them through this insane journey and career and industry. I don't have that; like, my mum was in Japan the whole time [SAWAYAMA] was doing its thing and she doesn't have any knowledge of the industry. So not having that meant that I had to be like, 'No, actually, I'm looking at my calendar and that to me looks like an 18-hour day, so I'm not doing that. I'm putting my foot down and being like, 'It doesn't make me more productive if I haven't slept.'"
She has known for years that she needs to prioritise self-care and to refuse excessive work but it's only recently that she's felt able to say no. It's about being able to split yourself in two and have mental conversations with yourself as if you're a softer second person, I offer. Exactly, she says, "Once I got to that part of re-parenting myself and treating myself as a 'we' and being like 'Do you need to do this?' And if it's a no then it's a no."
The title track of the album is the statement piece on re-parenting yourself. It opens like a holy gesture to Madonna's 'Like a Prayer' and becomes an emotional dancefloor filler about caring tenderly for the younger person you abandoned. "Sometimes I get down with guilt / For the promises I've broken to my younger self,"she sings with 00s R&B vocals."Moving on, maybe I never will / 'cos I left you spinning on the carousel."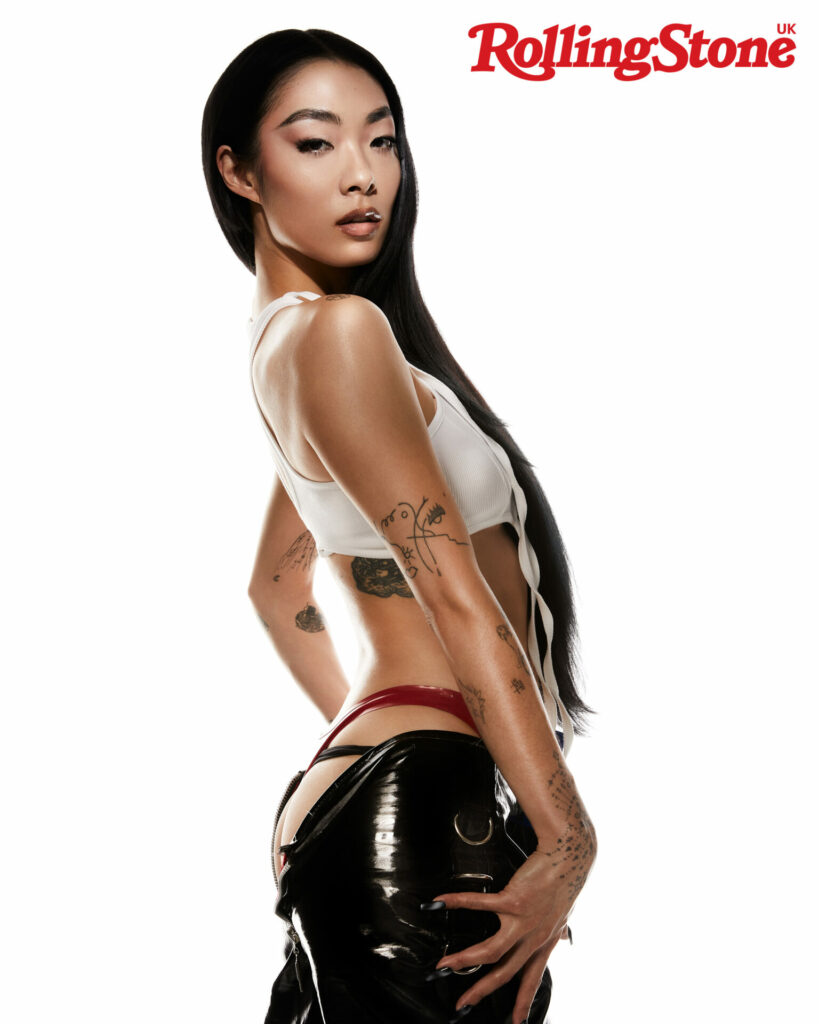 Sawayama's mission was to make uncool music cool. On her mini-album RINA and debut full-length SAWAYAMA, the singer pulled references from Britney Spears, Evanescence and the sludgy rock of bands like Korn and Papa Roach. In the two years since the latter's release, the pandemic nostalgia train has meant that those troublesome sounds – nu-metal, 90s and 00s pop and stadium rock – are now in fact in vogue. This meant that the influences for 'Hold the Girl' had to be more surprising again.
Stand-out track 'Catch Me in the Air' was heavily inspired by Irish family pop band The Corrs. If that wasn't rogue enough, she wanted a Corrs song as if pitched to Gwen Stefani, who had just launched a comeback at the time of writing. "I had 'catch me in the air' written down as a note already," says Sawayama. "From the pre-chorus to the chorus I wanted to have that feeling of a lift, as though you're jumping off a cliff into crystal-clear water."
The song specifically is a celebration of her relationship with her mother. "It's about how we've kind of caught each other in the air at different times in our lives, and how intense single parenthood can be. Just celebrating that partnership because when you [have] a single mum, they're your sister and your child at the same time. Just writing about the complications of that from an adult perspective."
"I personally don't like to think that there's competition in the music industry with girls in my field now. It's easy to start to buy into that narrative so much that if you don't do this, someone else will"

— Rina Sawayama
She didn't have the maturity or generosity to understand that prior to age 30, when she was frustrated by her mother and the life they shared. "I could never have done what she did: she couldn't speak English, moved [to the UK] with my dad, and then they separated," she says. "My dad was the breadwinner. My mum didn't know how to earn money. We shared a room till I was 15. How the fuck did she do that when she was a little bit older than me?"
To complete the production, she sent pictures of what she wanted it to sound like to producer Stuart Price. "It was someone meditating on the edge of the cliff, it was seagulls, it was someone on a pier, it was Irish coastline, waves hitting," she remembers. "And he absolutely nailed it – it does sound like that."
Another sonic curveball is 'Frankenstein', a tense and tetchy indie track (imagine Girls Aloud covering Franz Ferdinand or Maximo Park) featuring the singer begging someone to therapise her, to "put me together, make me better". She wrote it with Aquilina and Paul Epworth, known for working with Adele and Florence + the Machine but who started off producing indie disco music with artist like Bloc Party. Sawayama asked Epworth to approach Matt Tong, formerly of Bloc Party, to play the frenetic drums on the track. "He took a picture of his hand covered in blood. I think the BPM is 130-something, super fast," laughs Sawayama. "He was just so sweet. We were little pen pals for a bit because he's Asian as well, so we were talking about being Asian in the music industry and how inspiring he is to me."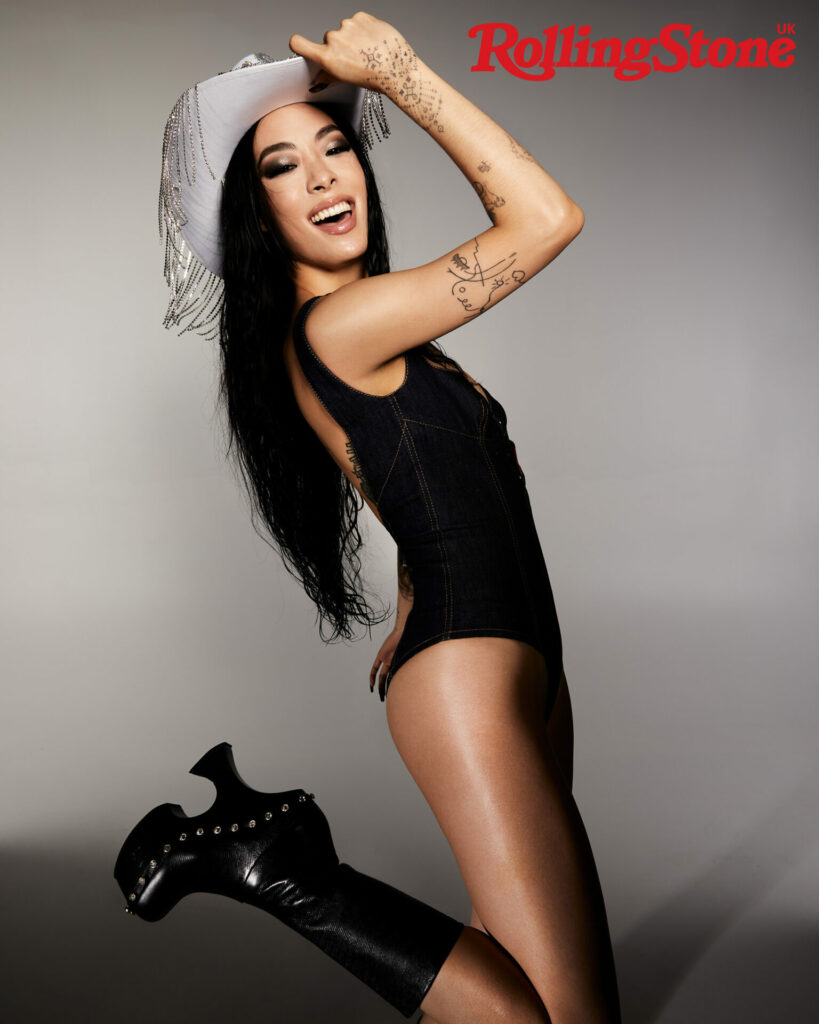 British indie and all its accoutrements ("tight, tight white skinny jeans, Converse and a waistcoat") is a cultural era Sawayama has a fondness for given that she grew up near its epicentre of Camden. "I'd go to gigs twice a week, buy so many records of bands that started with 'The' – landfill indie," she smiles. She followed one of these bands, The Bravery, around on their UK and European tour.
"Now I know how it feels to be a fan of someone [who] didn't fucking give a shit about us… It was drinking and lad culture 2.0; people didn't give a shit and that was part of the aesthetic. I remember queuing up at Brixton Academy at 9am. [I] just try to give a lot more love to my fans than The Bravery ever did. No shade but it's true."
Sawayama's intelligence underpins everything she does: it's why she's so fondly supported by critics. When we speak, she looks between the mirror and me and then signs off her thoughts with a smile and nod and a bashful "yeah" as if she's simultaneously considering her answer and checking its reception.
"It's quite random for a Japanese-British artist to make country music, but I never really care about those kinds of things. I just want to have fun"

— Rina Sawayama
Her mind gave her entry to study politics, psychology and sociology at the University of Cambridge, but the experience of a prejudiced white upper-class world was one she didn't enjoy. Afterwards, she was a jobbing model and then spent her twenties playing to London's underground music scene with pop dance routines with a camp edge and songs about feeling isolated and existing on social media.
With a ride-or-die fanbase, critical admiration and incisive conceptual vision behind all her work to date, Sawayama has yet to have a true solo hit. 'This Hell' is the song that is best positioned to chart: a queer party anthem about being condemned to an eternal damnation that's equal parts Shania Twain, Gaga and ABBA.
"I've just been so fascinated with the feeling of escapism that country music has. It's very homey, but for a Brit, it sounds like the big Wild West," says Sawayama. "It's quite random for a Japanese-British artist to make country music, but I never really care about those kinds of things. I just want to have fun."
Its ambiguous chorus – "this hell is better with you" – makes the track double up as a post-apocalyptic tongue-in-cheek reflection on surviving with loved ones through the pandemic, climate anxiety, the country's political landscape and the cost of living crisis – or any combination of the above that we are now subjected to.
There is nothing to suggest that Sawayama won't transition from a niche LGBTQ+ meets avant garde pop space onto a wider public stage of celebrity. During the pandemic, she had the eyes of the music world on her when she campaigned for British arts awards to allow non-UK passport holders to be eligible for nomination. As a result, the Mercurys changed their eligibility criteria. She's determined to be nominated for the prestigious award – previously won by PJ Harvey, Dizzee Rascal and Dave – this year.
"It's important to give the same platform and credit to people who might not be eligible just because of their citizenship. It's important to have a level playing field in music"

— Rina Sawayama
"It's an award that I've always looked up to," she says. "That sticker I would always see on my favourite CDs as a teenager. It's important to give the same platform and credit to people who might not be eligible just because of their citizenship. It's important to have a level playing field in music."
Sawayama has also made a foray into film. In early 2023, her lead supporting role in John Wick 4 will be revealed. The film team arranged for her to have a call with the director Chad Stahelski to do a screen test. "A couple of days later I was on a plane to start training for the fight scenes which is three months of intensive work," she tells me.
"They wanted someone who could do choreography and Chad Stahelski had watched my music videos, specifically 'XS' and 'Bad Friend', one has dance, and the other has fighting." She plans to continue her acting career which will further boost her profile, having enjoyed the vigorous training and the family atmosphere of being part of an ensemble cast meeting daily.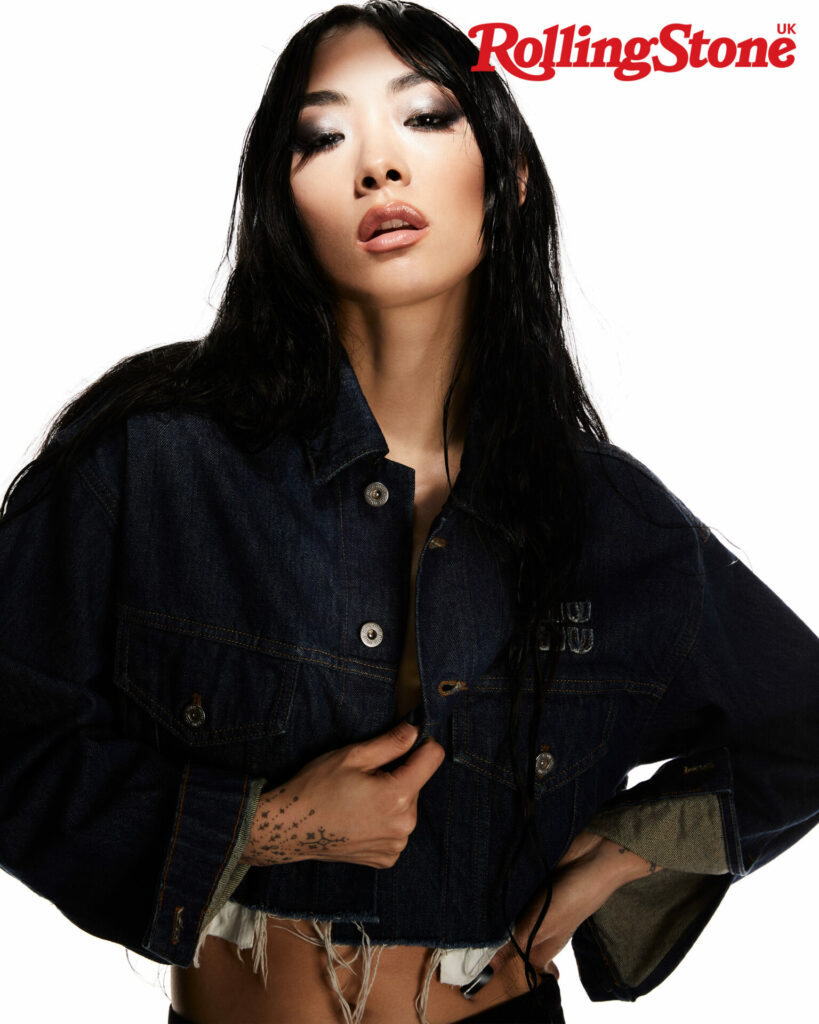 Being a rising star during the pandemic has been odd, mostly because she isn't sure whether the past two years have made standom in general more passionate or if her fans just grew in number and intensity.
"Before the pandemic, no one recognised me ever, I could just go out in the streets looking like shit and now it's very, very different," she says carefully, adding that she's usually approached in central London, but it's even happened on the road where she lives, which triggered privacy concerns. "I actually had to go back into talk therapy when I first started getting recognised because of the anxiety of not seeing anyone, almost getting agoraphobia by not leaving the house. People have nice intentions and want to come so close to you and hug you, but it was completely freaking me out."
This was another issue that she was able to solve through therapy. Naturally, having done it in some capacity for most of her life, she'd recommend it to anyone and everyone. "When I was working three jobs and my mental health was probably at its worst, I was prioritising saving for therapy every single week," she says. "That was a priority for me." As if anticipating the inescapable issue of financial cost given the underfunding of the NHS, she adds, "But I was able to get my current therapist for a much lower rate because of means testing, a sliding scale. Go to therapy, it's awesome."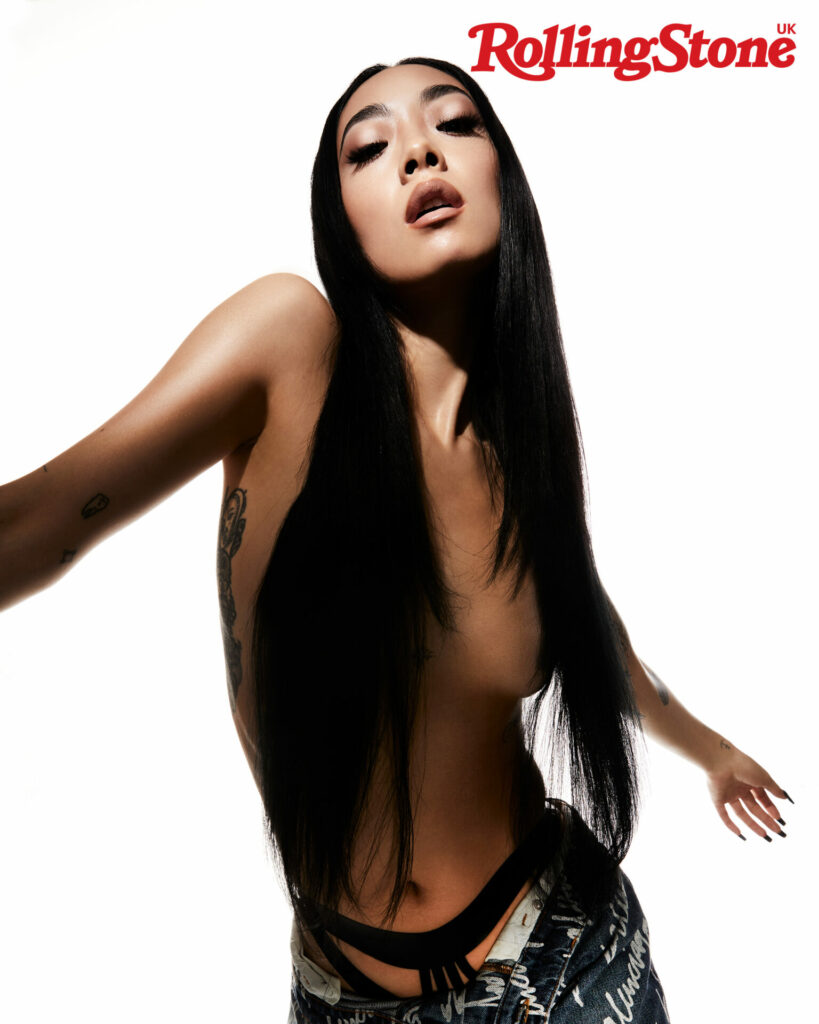 Now that she's re-parented herself has it made her feel strongly about whether she wants children of her own or not? "I guess that's another thing that really inspired the whole [parenting] topic," she laughs, bringing the conversation back to the pandemic. "So many people around me got pregnant and married and I was just like, 'Aaaaahh, I'm not ready at all.' The verdict's still out about children: I don't know. I've never been the type to desperately want children. I don't know if I'm ready for kids." For now, she's a mother to her dog and considers that responsibility enough in an era where she's enjoying being out of lockdown and partying with friends.
"The one thing that I'm really grateful for is that my mum never pushes me to have kids or get married," she adds. "She's not very traditional Asian in that way. She's like, 'You do your career.' Because I think for her, at that time, it was the decision between your career and your child. And she is so career-driven that I can sense that she probably wanted to have more of a career."
"I had to go back into talk therapy when I first started getting recognised because of the anxiety of not seeing anyone, almost getting agoraphobia by not leaving the house"
Raising Sawayama was her mother's main job until Sawayama was 12 and her mother went to design school. The pair funded her mother's education by taking a lodger. "I remember trying to help her do her coursework and she couldn't ever help me with my homework because she couldn't understand what I was doing," she says. "She's thriving now, she's doing really well."
Her relationship with her mother now is much improved, the best it's ever been. Was success with the specialised therapy the reason for that? "No," she says. "It was sadly, I think, me having a bit of success in music. She's finally like, 'I don't need to worry about you any more.'"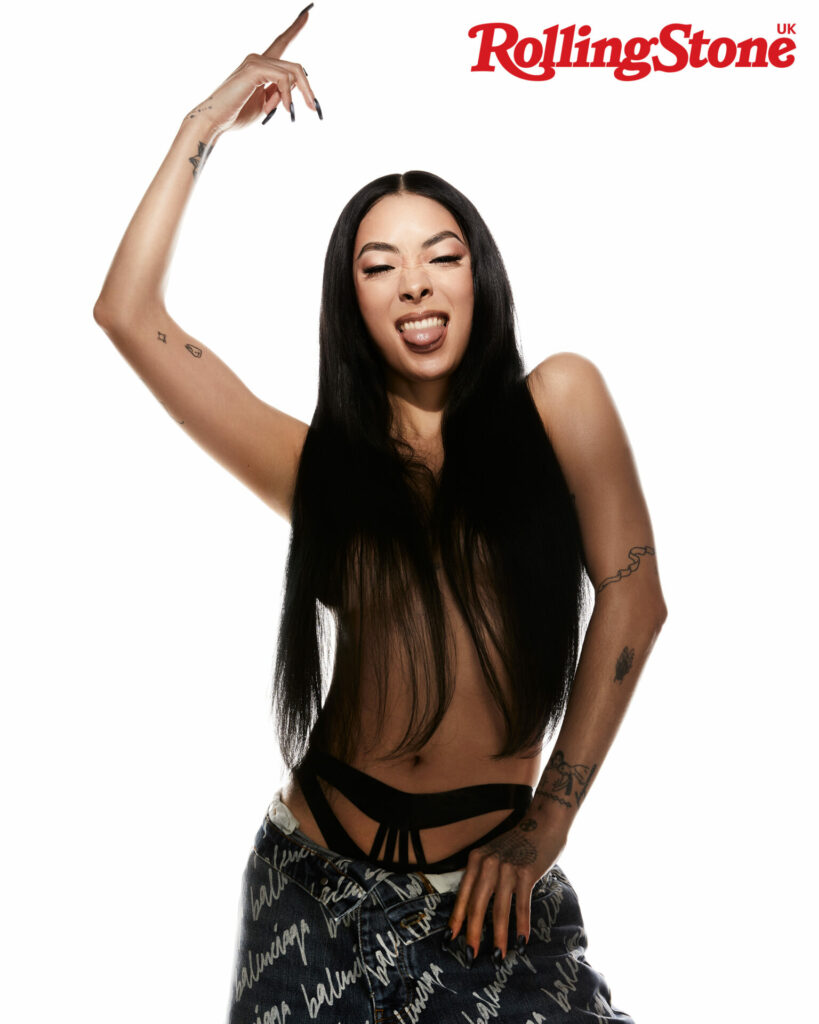 The turning point was her show at the Roundhouse in November last year, a short walk from where Sawayama was raised. Her mother attended from Japan. "Everything that she had done in the first 28 to 29 years of my life had been for me," she says of her mother. "And once she realised that I didn't need support as much any more, she just eased off. Now, knowing how much she had to go through, I can understand and sympathise with her."
Sawayama sees this as a symbiotic dynamic shift that allows them both to step towards the other with warmth. Over the past two years, they've both decorated Sawayama's home, her mother instructing on choices remotely over video call. "There's kind of a dual appreciation of each other's hard work," she says.
At the Roundhouse that night – the inverse of her recent agoraphobia experiences – she performed 'Catch Me in the Air' to more than 3,000 people. After many years as her single parent's child, Rina Sawayama was holding herself in the air with her mother there only to watch.
Rina Sawayama fronts Rolling Stone UK's digital cover. Subscribe to Rolling Stone UK in print and digital here.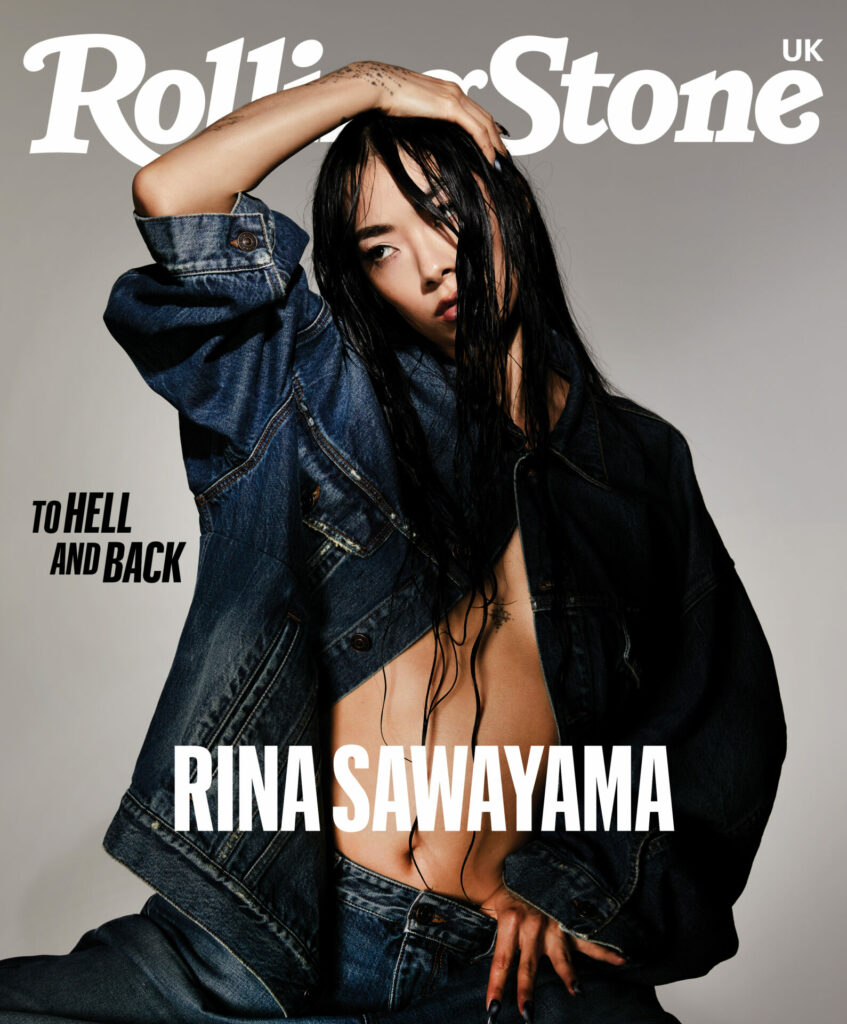 Photography: Marcus Cooper
Creative Direction and Styling: Joseph Kocharian
Hair: Gregg Lennon Jr using Hidden Crown and Oribe
Make-up: David Razzano at Opus Beauty using NARS
Nails: Eri Ishizu at Opus Beauty using Aprés Gel-X
Light and digi tech: Isaac Rosenthal
Post-production: Mario Ernun
Rina's creative team: Jordan Kelsey and Chester Lockhart
Fashion Assistants: Nora Russell and Sacha Dance
Location: Waverly Studio, Brooklyn