Hear Calvin Harris reunite with Dua Lipa and Young Thug on new song 'Potion'
Harris last collaborated separately with the acts on 'One Kiss' and 'Heatstroke'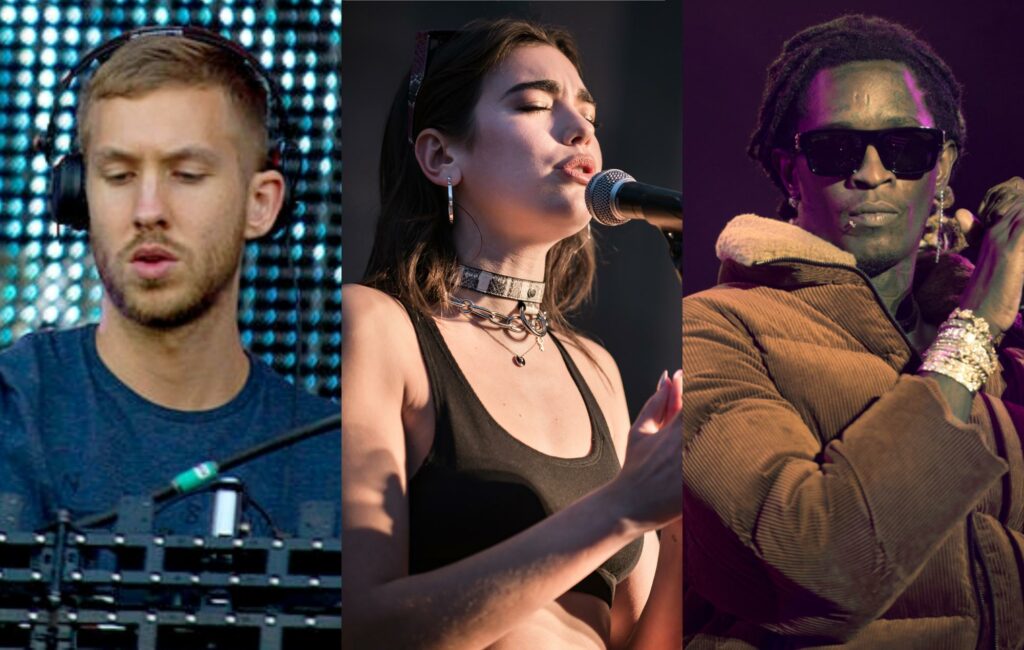 Calvin Harris has reunited with Dua Lipa and Young Thug for a new song – listen to 'Potion' below.
'Potion' appears on Harris' upcoming album 'Funk Wav. Bounces Vol. 2', which doesvn't have a release date but is expected this summer. It's the follow-up to 2017's 'Funk Wav Bounces Vol. 1'.
Harris previously worked with Dua Lipa on 'One Kiss' and with Young Thug on 'Heatstroke'.
The Scottish DJ spoke about his sixth album recently in an interview with Apple Music 1's Zane Lowe. "I wanted the original essence and I want the layers and the grit and the dirt and I don't want everything to be mixed perfectly," he told Lowe.
"I want things to be too loud and I want things to be like, you know, I want things to be like Sly and the Family Stone when it's just mixed on the fly."
'Potion' marks the first new single to feature Young Thug since he was indicted on racketeering charges as well as drug and gun possession charges earlier this month. In a statement Thug's lawyer Brian Steel said: "The response to any allegation is Mr Williams committed no crime whatsoever and we will fight to my last drop of blood to clear him" [via CMU].
Earlier this year Harris worked with Love Regenerator, Riva Starr and Sananda Maitreya for the single 'Lonely'. In 2020 he collaborated with The Weeknd on the song 'Over Now'.
Meanwhile, Dua Lipa recently released 'Sweetest Pie' with Megan Thee Stallion.
The singer has also reportedly been cast in Greta Gerwig's upcoming film 'Barbie'.
The 'Future Nostalgia' pop star is said to have signed up for the live-action movie, which stars Margot Robbie as the titular doll character. Ryan Gosling will portray Ken, with the wider ensemble cast including the likes of Will Ferrell, Kate McKinnon and 'Sex Education' actor Emma Mackey.
According to The Sun, a source close to the project claimed that Lipa "has joined the cast of 'Barbie'" along with Saoirse Ronan ('Lady Bird', 'The Grand Budapest Hotel'). Ronan also appeared in Gerwig's 2019 adaptation of 'Little Women', playing Josephine "Jo" March.
The latest casting news comes as Lipa prepares to make her acting debut in the Apple TV+ film 'Argylle' later this year.